Retro Candy Box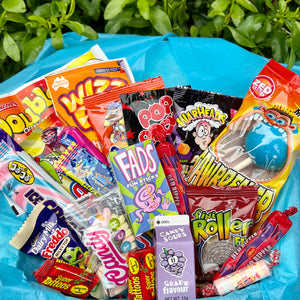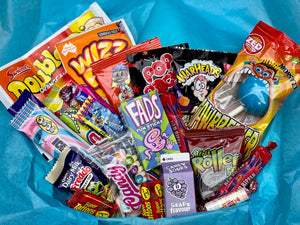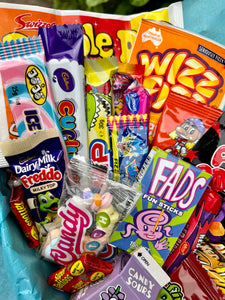 Our Retro Candy Box will send you on a trip down memory lane. The box is filled full of your old time favourite chocolates and candy and includes confectionery you would have enjoyed in your childhood and not typically found on supermarket shelves. We've curated a selection that we know you will appreciate and enjoy. 
Typically in the box:
Double Dip
Warheads
Wizz Fizz 12.5g
Pop Rocks 7g
Monster Jawbreaker 55.5g
Ice Cream Chew 25g
Curly Wurly 21.5g
Cadbury Chomp Bar
Fads Fun Sticks 15g
Wicked Fizz 12g
Candy Watch 14g 
Chewy Fizzer

Sour Rolls 40g

Chupa Chups 12g

Rockets Candy 4.5g x 2

Ka-Bluey Bubble Gum

Ovalteenies 15g
Freddo Frog 15g
TNT Bubble Gum Bar
Kit Kat

The perfect box to treat yourself or gift a friend, colleague or family member! This great value box is also suitable for handing out at events, corporate customers can also include their company name or logo, contact us at customerservice@partyarts.com.au to discuss.
Box comes sealed with a decorative band.
*Contents in images are indicative of the typical selection, we may substitute items pictured subject to availability.