Pirate Skull & Cross Bone Wallet Set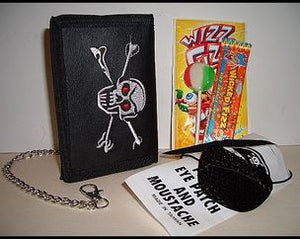 Skull & Cross Bone design vinyl Wallet has a chain attached that can be used to clip wallet to school bag or belt for safe keeping!  The wallet has a velcro fastener with internal slots for cards and a zip compartment for coins.
Makes a great keepsake for those pirate lovers.
Inside the wallet you will find:
Pirate Eye Patch
Fake Moustache
Lolly Pop
Wicked Fizz
Wizz Fizz Satchet