Christmas Bubble Pop-It Lolly Bag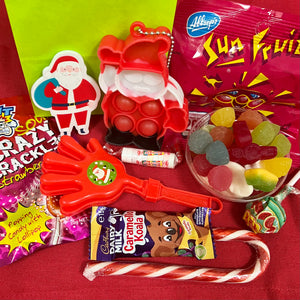 The perfect affordable Christmas Gift to delight, which includes our best seller bubble pop-it fidget. It's also a great unisex gift for those unexpected guests on Christmas Day.
Contents will include at least:
1 assorted Christmas design Bubble Pop-It Fidget (Santa, Tree or Stocking)
Christmas Slapper novelty
Christmas Foam Sticker
Allsep's Bag of Mixed Lollies
Large Candy Cane
Chupa Chups Lolly Pop
Rocket lollies
Cadbury Chocolate Variety
Wizz Fizz

Bag comes sealed with a Christmas design label.